---
---
7x24 Exchange International Headquarters:
322 Eighth Avenue, 202
New York, NY 10001
Tel: (646)486-3818
Fax: (212)645-1147
info@7x24exchange.org
Spring Conference
June 1 - 4, 2014
Boca Raton Resort & Club
Boca Raton, FL
The Data Revolution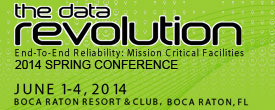 ---
This conference is designed for anyone involved with 7x24 infrastructures ? IT, data center, disaster recovery and network/telecommunication managers; computer technologists; facility or building managers, supervisors and engineers.
---
Click here to view a Special Report prepared for 7x24 Exchange Members in the January 2009 Issue of Building Operating Management Magazine!
---
INSIDE 7x24 EXCHANGE
---
7x24 Exchange Magazine
The Spring 2013 Issue of 7x24 Exchange Magazine is now available online. Click here to view this Issue.
---
7x24 Exchange Career Center!
This interactive Career Center provides job seekers and employers the tools necessary to maximize their employment search and / or placement needs. http://careers.7X24exchange.org
---
7x24 Exchange Experts Exchange!
Visit the 7x24 Exchange Information Exchange and communicate with a global network of your peers and colleagues.
Click Here to Register!